12 Inch Steel Hook and Eye
$ 20.00
15 Inch Steel Hook and Eye
12 Inch Steel Hook and Eye. Contains one hook and one eye. All components are made of steel and left unfinished.
Hook length from center of hook to center of hole that attaches hook to the back plate- 11-1/4″
Overall hook length- 12″
Back plate size- 1-1/2″ x 3-3/8″  (1-1/4″ deep)
Eye size- 1-1/2″ x 3-3/8″ (3/4″ deep)
We recommend you prime and paint these before installation. They do not come with screws. It is ok to use a drill when installing this product.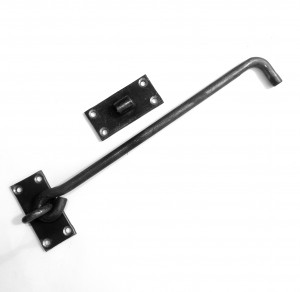 20 in stock
Description
12 Inch Steel Hook and Eye
Additional information
| | |
| --- | --- |
| Weight | 1 lbs |
| Dimensions | 13 x 2 x 1 in |