1920's Crystal 5 Arm Chandelier
This 1920's Crystal 5 Arm Chandelier has been cleaned and rewired and is ready to hang. It features Pendalogue crystals at the top and tear drop crystals hanging from the baubaches. There are five arms that take a standard base lamp (no greater than 40 watts each). The five shades are original to the fixture, one is cracked. You can choose to leave them on, or hang it without them.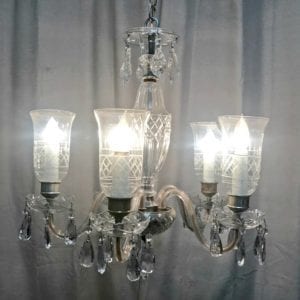 The Measurements are as follows:
24" wide
24" tall body with crystal
13" of chain and canopy
The bottom of this chandelier would hang 37" from the ceiling, perfect for 8' ceilings.
This item is to large and delicate to ship using UPS, please call 504 488 5524 if you would like a commercial freight quote to get this item home!