The Baton Rouge Line
The Baton Rouge Line Door combines clean lines with classic style. These doors are made from Mahogany with engineered stiles. We manufacture them with two different glass lengths in multiple sizes. The glass is clear, flat, and tempered; a single sheet of 1/4 inch glass. These are sold in a 7′ height but can be trimmed to 78″ tall in height if desired. These doors are sold as slabs only- no jambs included, and are unfinished and un- bored. Please call to get a freight quote before ordering, the price below does not include shipping.
The first glass length is 48″ with a shorter panel.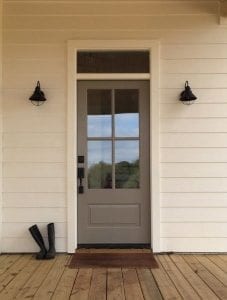 These are available in the following sizes:
36″ x 84″ x 1-3/4″
34″ x 84″ x 1-3/4″
32″ x 84″ x 1-3/4″
30″ x 84″ x 1-3/4″
18″ x 84″ x 1-3/4″ – this is a side light but has been used as a French door by a few of our clients
The second glass length is 36″ with a panel almost halfway up the door