Large Henry Lips Original Stained Glass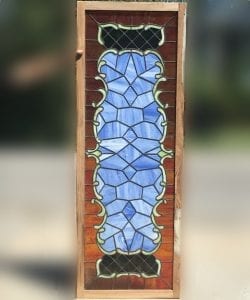 We have Three of these Large Henry Lips Original Stained Glass pieces. They are framed in reclaimed cypress and measure approximately 28″ x 77″ x 1-3/8″ each. These are signed A Henry Lips 11-1-80 in the corner, please see supplemental image.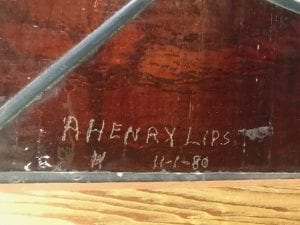 The Lips family has been in the stained glass business in New Orleans for many years. Multiple family members create beautiful pieces of art that hang in some of the most affluent homes in the south. Mr. Henry is still in business, handcrafting these beauties.
These two coordinate with two smaller pieces we have in a separate listing. There are nice complimentary blues and oranges as well as amber and a neutral opaque.
These Items are too large and fragile to ship using UPS therefore we ask you to call 504 488 5524 if you are interested in purchasing them so we may get you a freight quote with a commercial freight company.