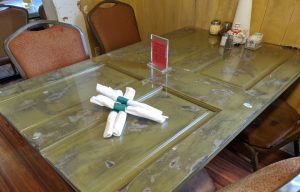 Are you looking for a signature piece for your living or dining room? Repurposing an old door into a decorative tabletop is not only fun, but will give your living or dining room the focal point you have been looking for. Your table, made from a repurposed door will be sturdy and will be big enough to seat 4 to 6 comfortably depending on the size of the door.
How It's Done
The whole process of making a table out of an old door can be as quick as 10 to 15 minutes. You can either screw the legs for your table straight into the door, or build a frame for the door which will be your tabletop, to sit on.  Tabletop easels would be another another simple and easy way to build your unique door table.
If you don't want to repaint your door and want to keep that old shabby and distressed look, consider covering the top  of your door table with a piece of glass. That way you will have a smooth and clean surface, but can still enjoy the old and used look of your door.
Ricca's Antique Doors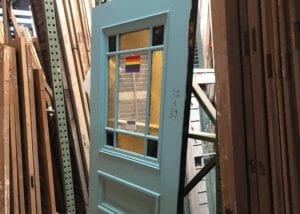 Ricca's Architectural Sales has a lot of items from demolition in our inventory. We are the best place to come to find antique doors. If you are looking for something unique that will not only preserve and re-purpose salvaged parts, stop by Ricca's Architectural Sales and find the perfect addition to your home or business.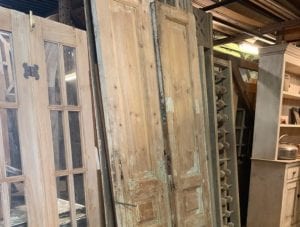 Most of our doors are made of cypress. If they are antique, please keep in mind these are used doors and will have holes, blemishes and other imperfections.
Antique T panel doors come in widths from 28″ wide to 34″ wide, although we do have some others in odd widths. The height starts around 76″, and up to 84″ nor