How To Make A Bird Bath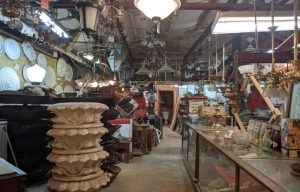 Spring is right around the corner, and that means you will spend a lot of time in your yard before it gets too hot outside. Do you like to watch birds? Here in New Orleans, you get to enjoy Sparrows, Blue Jays, Cardinals,  Mockingbirds, Finches and many other birds. The best way to enjoy birds is to watch them while they are taking a bath.
What You Need For A Bird Bath
An old out of commission fountain can make a great bird bath. An old stool or step ladder can easily be converted into a base for your bird bath. You can create a fun whimsical bird bath with an old tea cup and saucer attached to a painted wood spindle. If you prefer a sturdier base, stack up some spare bricks into a pillar and place a bowl or tray as the water basin on top. If you rather hang your bird bath to keep it higher up and off the ground, a hanging planter would work better for you. Really, the options when it comes to building your bird bath, are endless. Just visit Ricca's Architectural Store, we have plenty of items including planters, pots, plates, trays and much more you could use to create your own unique bird bath.
A few more tips
Once you have your bird bath built, we recommend keeping it up all your round so the birds get used to it and you can watch them whenever you feel like it. If you happen to have a feeder, keep it full with food all year round. In New Orleans, our birds will not leave and migrate to a warmer climate in the winter. Make sure to keep fresh water in your birth bath, especially during the hot summer months.
Find everything you need to build your bird bath at Ricca's Architectural Sales. We are located at
511 North Solomon Street in Mid City, New Orleans, LA 70119
(504) 488 – 5524 or (504) 822-8200 | Fax: (504) 488 – 5662 | Email: riccaarch@yahoo.com
Business Hours:
Tuesday – Friday 9 am – 5 pm, Saturday – 9 am – 4 pm