Stay Safe This Carnival Season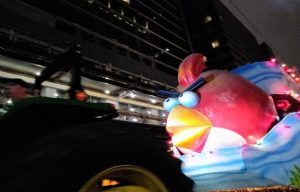 We at Ricca's want to make sure you have a safe 2020 Carnival Season. It all began on January 6th and will end on Mardi Gras Day February 25th. Here are a few tips on what you need to know to make it safe through the season. As you pack your adult beverages, don't forget to brings lots of water when heading to the parade routes too. Parades can last for hours. It is important to stay hydrated. Wear comfortable shoes when heading to your favorite parades this Carnival season.  Make sure your Mardi Gras ladders are structurally sound and are place at least six feet back from the street curb. Get to your favorite parade spot early this Carnival Season. Remember you are not allowed to rope off areas of the neutral ground, public sideways, or other public property. If you decide to put up a shade tent or other structure larger than 10′ x 10′ you will need to get a permit. You cannot leave tents or ladders on the on the neutral ground or along curbs and sidewalks overnight. If you bring a grill, you will need to place it at least six feet from the street curb. Make sure to figure out where your closest bathrooms are and bring some extra toilet paper and hand sanitizer.
Parade Schedule
Below find a list of some of the parades you don't want to miss this Carnival season:
       Saturday, February 8
Sunday, February 9
Friday, February 14
Saturday, February 15
Sunday, February 16
Wednesday, February 19
| | | |
| --- | --- | --- |
| Krewe Of Druids | 6:15 pm | Uptown |
| Krewe Of Nyx | follows | Uptown |
Thursday, February 20
Friday, February 21
Saturday, February 22
Sunday, February 23
Monday, February 24 – Lundi Gras
Tuesday, February 25 – Mardi Gras
All dates and times are subject to change.
Ricca's Architectural Sales is located at
511 North Solomon Street in Mid City, New Orleans, LA 70119
(504) 488 – 5524 or (504) 822-8200 | Fax: (504) 488 – 5662 | Email: riccaarch@yahoo.com
Business Hours:
Tuesday – Friday 9 am – 5 pm, Saturday – 9 am – 4 pm
Ricca's Architectural Sales has a lot of items from demolition in our inventory that we restore and preserve for future uses in both residential and commercial designs. We are the best place to come to find that special moulding, chandelier, or even small parts. If you are looking for something unique that will not only preserve and re-purpose salvaged parts, stop by Ricca's Architectural Sales and find the perfect addition to your home or business.