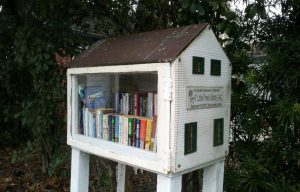 You have tons of books you have read at least twice, and now you need room in your shelves for more? Why not make your own little free library? That way, you will get space in your bookshelves and you would promote literacy in your neighborhood. This free book exchange will not only spread creativity and knowledge, but also bring your community closer together. Right now there are over two hundred little free libraries in the City of New Orleans according to New Orleans Little Free Library
What You Need For Your Little Free Library
Before getting started, make sure you find a good spot with a lot of foot traffic. Also, find out about the government and local other zoning restrictions before building your own little free library. Once you figured out a good location and got all your paperwork together, it is time to get started building your free little library. All you need is a good and sturdy stand like a pedestal that is strong enough to support the box for your books. The box that will hold your books should have glass windows so everybody can see the different books. If you want your box to look a little eclectic, use stained glass. You will also need some hinges and a knob for the front of the box.  Don't forget to get your library registered. For more information visit: https://littlefreelibrary.org/start/.
Do you need a little bit of help with the supplies to build your free library? Don't worry, Ricca's Architectural Store can help. Stop in with your idea, and we can help get the hinges and other unique items that can make your Little Library the best in the neighborhood.
Ricca's Architectural Sales we have everything you need to build your little free library. We are located at
511 North Solomon Street in Mid City, New Orleans, LA 70119
(504) 488 – 5524 or (504) 822-8200 | Fax: (504) 488 – 5662 | Email: riccaarch@yahoo.com
Business Hours:
Tuesday – Friday 9 am – 5 pm, Saturday – 9 am – 4 pm
Ricca's Architectural Sales has a lot of items from demolition in our inventory that we restore and preserve for future uses in both residential and commercial designs. We are the best place to come to find door knobs, hinges, and even pedestals. If you are looking for something unique that will not only preserve and re-purpose salvaged parts, stop by Ricca's Architectural Sales and find the perfect addition to your home or business.