Preserving New Orleans Charm & Uniqueness
Have you ever wondered why New Orleans is such a charming city?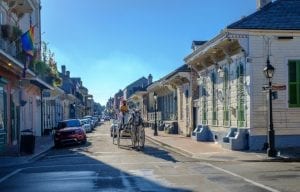 Some call New Orleans the most European city in America. Europeans had an impact on New Orleans architecture and culture; however, New Orleanians added their own elements.
The French founded the city  in 1718 under the direction of Louisiana governor Jean-Baptiste Le Moyne de Bienville calling it La Nouvelle-Orléans.
In 1762 and 1763 France signed treaties giving Louisiana to Spain. For about 40 years New Orleans was a Spanish city. In the late 1700s, two major fires had almost wiped out the French Quarter and other parts of the city. The fires led officials to implement building codes that impacted the look of the area. Baked tile and quarried slate replaced cypress shingles on roofs. Buildings, set at the sidewalk or banquette, were built with brick and had common firewalls. While rebuilding, Spanish and Caribbean architecture including Creole cottage and Creole townhouse styles were introduced to the area.  Creole townhouses were built until the mid-19th century. They usually had courtyards thick brick walls and cast-iron balconies. Creole townhouses have steeply-pitched roofs, side-gables and several roof dormers. They show their French and Spanish influence.
In 1803, Louisiana went back to the French, who sold the city to the United States that same year in the Louisiana Purchase.  Just a short time later, the so-called Shotgun houses were developed in New Orleans. This  narrow rectangular house is usually no more than about 12 feet wide. It became the city's predominant house type. The rooms are arranged one behind the other and doors at each end of the house.  The first Shotgun style houses were build in the rear for the French Quarter and and in Faubourg Treme as early as around 1810. People kept building shotguns through the 1920s. To this day, you can find them throughout the city.
Ricca's selective demolition works to preserve the city's charm. In most cases, 80% of any home can be saved from the landfill.
Ricca's Architectural Sales has a lot of items from demolition in our inventory that we restore and preserve for future uses in both residential and commercial designs. We have lots of antiques and salvaged items such as knobs, locks, hinges, stained glass, ironwork, shutters, mantels, and doors. We have items that are hard to find, that are essential to completing a project.
We are the best place to come to find that special moulding, chandelier, or even small parts. If you are looking for something unique that will not only preserve and re-purpose salvaged parts, stop by Ricca's Architectural Sales and find the perfect addition to your home or business.
CaLL Ricca's Architectural Sales, located at
511 North Solomon Street in Mid City, New Orleans, LA 70119
(504) 488 – 5524 or (504) 822-8200 | Fax: (504) 488 – 5662 | Email: riccaarch@yahoo.com
Business Hours:
Tuesday – Friday 9 am – 5 pm, Saturday – 9 am – 4 pm