Build Your Mardi Gras Ladder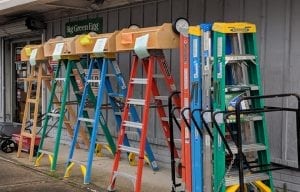 Ladders are part of the Carnival traditions in New Orleans. Soon you will see them everywhere along the parade routes. They are usually decorated with beads and, of course, the Mardi Gras colors. If you are thinking about getting one for your kids, you have a few options: You can just buy one already assembled, prices start at $109.99 from Ace hardware.
Buy A Kit
You can pick up a kit at you local hardware store. Getting a pre-assembled box saves you a lot of time. You simply attach the box to the ladder and add the wheels and straps.  Usually assembly only requires a couple of wrenches and a screwdriver. Now, you can spend more time decorating your ladder to make it stand out.
Build Your Own
This will take you a little more time, but afterwards you will be able to say: "I build this myself." The box can be as fancy as you want it to be. It's dimension should be between 2-2 1/2 feet wide, 1 foot deep, 1 foot tall. You will need to get a 6 feet tall ladder. You will also need to get two  plastic wheels and hardware.  The seat belt with hardware and  the box straps with hardware. To attach the box to the ladder you will need bolts washers and wingnuts.
Some City Regulations Concerning Ladders
Obviously, your Mardi Gras Ladder must be built strong enough to hold your kids. Do not fasten ladders together. Remember, ladders must be set up at least six feet back from the street curb and like tents, do not leave them on the neutral ground or along curbs and sidewalks overnight as they will be disposed of.
For more information visit: https://ready.nola.gov/mardi-gras/what-to-bring/
Ricca's Architectural Sales, located at
511 North Solomon Street in Mid City, New Orleans, LA 70119
(504) 488 – 5524 or (504) 822-8200 | Fax: (504) 488 – 5662 | Email: riccaarch@yahoo.com
Business Hours:
Tuesday – Friday 9 am – 5 pm, Saturday – 9 am – 4 pm