How To Build A Faux Fireplace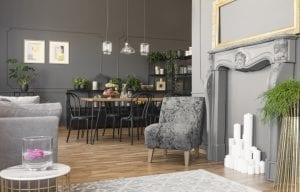 It's getting darker and a little cooler outside, the perfect time for a DIY project. A faux fireplace can add a lot of character to your home. You can also decorate it easily for the upcoming holidays. This is a fairly easy project which won't cost you much.
How It's done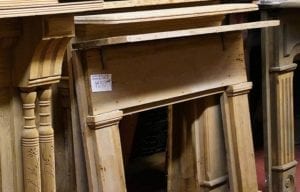 Get a fireplace mantel  front, there are plenty out there. A reclaimed mantel from an architectural salvage warehouse is probably the best way to go. Strip off the old paint. Use a mask just in case the old paint contains lead. Repaint the mantel so it matches the decor of your home. You will also need to build a base frame to which you will attach the mantel. The base frame can be made out of 2 X 4's, but it must be strong enough to hold the weight of your mantel. Once you attached the mantel and base frame to your wall, it is time to decorate. For Halloween, you could put some candles, a fake spider web or a mirror inside your faux fireplace. When Thanksgiving comes around, you could stack some wood or put a pumpkin in the space. For Christmas, an LED screen displaying a burning yule could become the focal point of your home.
Ricca's selective demolition works to preserve the city's charm. In most cases, 80% of any home can be saved from the landfill.
Ricca's Architectural Sales has a lot of items from demolition in our inventory that we restore and preserve for future uses in both residential and commercial designs. We have lots of antiques and salvaged items such as knobs, locks, hinges, stained glass, ironwork, shutters, mantels, and doors. We have items that are hard to find, that are essential to completing a project.
We are the best place to come to find that special moulding, chandelier, or even small parts. If you are looking for something unique that will not only preserve and re-purpose salvaged parts, stop by Ricca's Architectural Sales and find the perfect addition to your home or business.
Ricca's Architectural Sales is located at
511 North Solomon Street in Mid City, New Orleans, LA 70119
(504) 488 – 5524 or (504) 822-8200 | Fax: (504) 488 – 5662 | Email: riccaarch@yahoo.com
Business Hours:
Tuesday – Friday 9 am – 5 pm, Saturday – 9 am – 4 pm