Get Your House Halloween Ready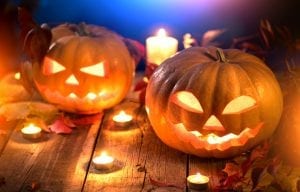 Halloween is almost here and the question now is: Is your home ready for trick or treaters? Spruce up your curb appeal during the spooky time of year.
Spook Up the Front Porch
Trick or treaters will pay close attention to your front porch and it will be your job to make it as spooky as possible. Lanterns, spiders, scarecrows, skeletons and/or  piles of pumpkins will dress your porch up for Halloween.  If you are tired of the "ordinary" Jack-O-Lanterns, why not turn your pumpkins into a litter of black pumpkin cats? Just spray the pumpkin black, carve out a cat face and glue some felt triangles to the top for cat ears. Put a candle inside and a grinning cat will greet your visitors. Another way to give your pumpkins that extra edge: use glitter and glam your Jack-O-Lantern up a little. Just use glue and black glitter and let your kids come up with different designs. This makes for a fun project for the entire family.
Spook Up Your Yard
White ghosts could be flying in your yard. Just get some white lanterns glue some white fabric to them and paint a spooky face on the lantern. Use a hook and some strings to hang your little ghosts on the trees in your yard. The wind will make it seem as if they are "flying" in your yard. Another way to get your yard Halloween ready is by putting up some fake tombstones.  Get a big enough piece of Styrofoam and cut out the shape of a tombstone. Use gray spray paint and a black marker to decorate the tombstone accordingly. Once you put it in your yard secure it so it does not fly away.
Spook Up Your Windows
You can dress up your windows during Halloween. Various online retailers and craft stores sell spiders, witches or skeletons designed to stick to windows and mirrors without adhesives.
Ricca's selective demolition works to preserve the city's charm. In most cases, 80% of any home can be saved from the landfill.
Ricca's Architectural Sales has a lot of items from demolition in our inventory that we restore and preserve for future uses in both residential and commercial designs. We have lots of antiques and salvaged items such as knobs, locks, hinges, stained glass, ironwork, shutters, mantels, and doors. We have items that are hard to find, that are essential to completing a project.
We are the best place to come to find that special moulding, chandelier, or even small parts. If you are looking for something unique that will not only preserve and re-purpose salvaged parts, stop by Ricca's Architectural Sales and find the perfect addition to your home or business.
Ricca's Architectural Sales, located at
511 North Solomon Street in Mid City, New Orleans, LA 70119
(504) 488 – 5524 or (504) 822-8200 | Fax: (504) 488 – 5662 | Email: riccaarch@yahoo.com
Business Hours:
Tuesday – Friday 9 am – 5 pm, Saturday – 9 am – 4 pm