How To Keep Brass And Copper Clean And Shiny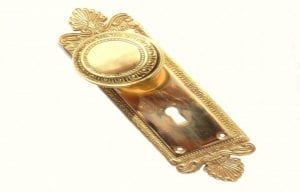 Brass, once exposed to oxygen, will begin to tarnish. A layer of sealer can prevent brass from tarnishing. Many brass surfaces come with this finish that basically prevents the air from reaching the metal. Unfortunately, the coating can wear down over time. This means your brass surfaces will turn dark eventually. Cleaning copper or brass can be a daunting task, but once the brass or copper is cleaned properly, it shines with a mirror-like finish.  It is important to note, that you don't have to use harsh chemicals in order to get the shine back. You can use ingredients you most likely already have in your kitchen.
Here are a few tips from the experts:
Fresh Lemon And Table Salt
Cut a fresh lemon in half and coat the flesh with table salt. As you're rubbing the metals surface with the lemon and salt, the acidity of the juice of the lemon combined with the abrasive quality of the salt breaks down the oxidation on the metals surface to create a beautiful luster on the brass or copper.
White Vinegar And Table Salt
Fill a spray bottle with 1 pint of white vinegar and add 3 tablespoons of table salt. Spray solution liberally on copper or brass. Put it aside and forget it allowing it to set for a while, then simply rub clean. In this application, it is the acidity of the white vinegar coupled with the salinity of the table salt that breaks down the oxidation on the metals surface to create a beautiful luster on the brass or copper.
White Vinegar, Or Lemon Juice, Table Salt And Cornmeal
Mix white vinegar or lemon juice, table salt, and corn meal into a paste. The corn meal is a binder that makes the mixture more easily spreadable on the brass or copper. Whereas, the acidic white vinegar or lemon juice combined with the table salt are the active agents to break down the oxidation.
Table Salt, All-Purpose Flour, And White Vinegar
Combine one teaspoon of table salt, one tablespoon of all-purpose flour and enough vinegar to create a thick paste. Cover the brass or copper with the paste by rubbing it on vigorously. Allow it to dry completely. After washing the brass or copper in warm soapy water, buff it dry with a chamois or clean microfiber cloth.
One more tip: when polishing and buffing metal, place your clean soft cloth in the clothes dryer or oven to heat it up a bit. Be careful not to make it too hot! Brings wonderful results and helps to make the task far easier.