Repurpose Ideas For Old Chandeliers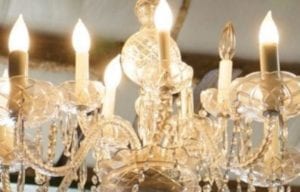 It is almost winter which means it is getting dark earlier and earlier outside. Why not bring in some extra light this holiday season? We, at Ricca's Architectural store, offer a wide variety of old fashioned chandeliers and lamps that can brighten up your home!
Lighting Ideas
There are several things you can do with older chandeliers or lamps. You could get the chandeliers rewired and put energy efficient LED lights in them. If you don't want to go through the trouble of having to rewire the piece, you could simply add some candles. This is a great idea especially for the holidays. If you decide to go with crystal chandeliers, you will even add some sparkle to your home. The crystals tend to reflect the light and let the entire room shine.  If you don't like the brass look of an old chandelier, consider painting it. White will give the piece a whole new look, but you can pick any color that matches your home decor.
If you want to add some extra flair to your yard, an old chandelier would be a perfect piece. Get some solar lights and insert those into the lamp instead of candles or regular lights. Leave it in your back or front yard and your neighbors will be sure to compliment you.
Visit Ricca's Architectural Warehouse
At Ricca's we have plenty of chandeliers available including 1920's 5 arm chandeliers, black chandeliers with crystal pendalogues, 10 arm crystal chandeliers as well as 6 arm Italian and Spanish brass and crystal chandeliers. Keep in mind a re-purposed chandelier also makes a unique holiday gift.
Ricca's Architectural Sales is located at
511 North Solomon Street in Mid City, New Orleans, LA 70119
(504) 488 – 5524 or (504) 822-8200 | Fax: (504) 488 – 5662 | Email: riccaarch@yahoo.com
Business Hours:
Tuesday – Friday 9 am – 5 pm, Saturday – 9 am – 4 pm
Ricca's Architectural Sales has a lot of items from demolition in our inventory that we restore and preserve for future uses in both residential and commercial designs. We are the best place to come to find that special moulding, chandelier, or even small parts. If you are looking for something unique that will not only preserve and re-purpose salvaged parts, stop by Ricca's Architectural Sales and find the perfect addition to your home or business.