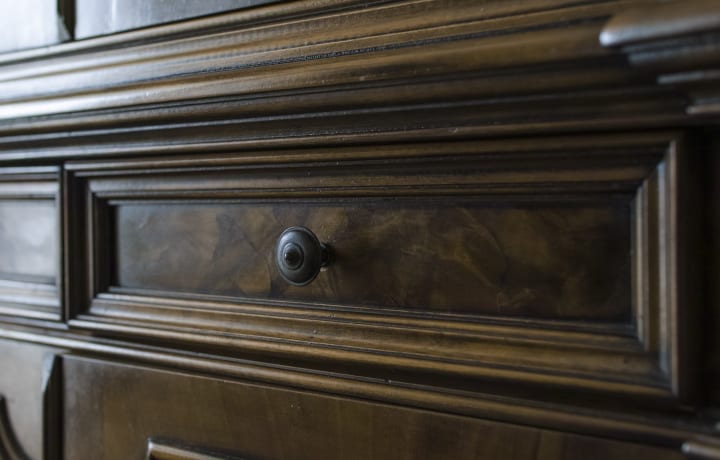 Should You Refinish Antique Furniture?
You got a good deal on an old piece of furniture at a thrift shop or found a real cool piece either by accident on the street or after some dumpster diving. Is it worth the effort to give it a fresh coat of paint so it matches your style?Also keep in mind,  that a fresh coat of a paint could ruin expensive antiques. Here are a few things you should consider before getting to work.
When Not To Re-Paint
 Some "wood" furniture from the last three or four decades might look like wood, but is made of particleboard, medium density fiber board (MDF), or veneer over plywood. If it's a cheap mass-manufactured piece made of particleboard or MDF with a foil or laminate finish, don't waste your time refinishing it, paint won't adhere well to the smooth, plastic-like surface.
You also should not refinish wood furniture if the piece is a valuable antique or a unique designer piece. Check for any designer markings on old furniture (maybe do an internet search on it before you refinish it).
Sometimes cleaning and/or restoring the piece may actually be better when it comes to value of the piece.
When To Re-Paint
Some pieces made of plywood with a wood veneer over it can be refinished if the piece is well-made and the wood veneer has not been extensively damaged.
If you really love the piece which was cheap, or free, keep in mind it's paint and it can be stripped off if you really don't like the result of your work.
If you inherit a piece of wooden furniture from your grandparents that holds a great sentimental value to you, we recommend having a professional refinish it to avoid the inevitable amateur mistakes that happen on a DIY project.
Ricca's selective demolition works to preserve the city's charm. In most cases, 80% of any home can be saved from the landfill.
Ricca's Architectural Sales has a lot of items from demolition in our inventory that we restore and preserve for future uses in both residential and commercial designs. We have lots of antiques and salvaged items such as knobs, locks, hinges, stained glass, ironwork, shutters, mantels, and doors. We have items that are hard to find, that are essential to completing a project.
We are the best place to come to find that special moulding, chandelier, or even small parts. If you are looking for something unique that will not only preserve and re-purpose salvaged parts, stop by Ricca's Architectural Sales and find the perfect addition to your home or business.
Ricca's Architectural Sales, located at
511 North Solomon Street in Mid City, New Orleans, LA 70119
(504) 488 – 5524 or (504) 822-8200 | Fax: (504) 488 – 5662 | Email: riccaarch@yahoo.com
Business Hours:
Tuesday – Friday 9 am – 5 pm, Saturday – 9 am – 4 pm