What You Always Wanted To Know About Hinges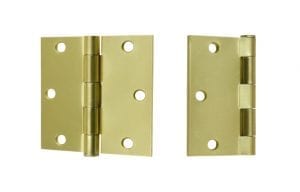 There are various types of hinges on the market. They differ in material, strength, style and, of course, design. Here we have a quick overview of some of the hinges you can find at Ricca's Architectural Sales:
Butt Hinges
They are among the most versatile hinges. Their application range from doors, windows, and cabinets to almost all furniture.  They are the most commonly used type of hinges. They are made of two matching leaves of metal connected by a central pin and barrel system. Butt hinges are most commonly used in multiples, three or fours.
Butterfly Hinges
This hinge's design appears to resemble the spreading wings of a butterfly from the center pin. This makes butterfly hinges an interesting piece of design. It is most commonly used for instances where the hinge might be visible in boxes, cabinets, and general furniture. Available in different textures and finishes to provide suitable color options, they contribute to the overall appearance of the hardware.
Pivot Hinges
These hinges are designed for overlay doors, where one part is mounted on top and the other on the bottom of the door, resulting in a concealed hinge. These are available for both light weight and heavy duty usages. The key advantage is that this hinge doesn't block the door to be opened in both directions and being mounted at the far ends, they allow a seamless view.
Strap Hinges
This hinge has long leaves or flaps for screwing onto the surface of a door or gate. That's why strap hinges offer strength and versatility of mounting. The parts are also called: a strap with a gudgeon (circular fitting) that mounts to the shutter or door, and a pintle (pin fitting) that mounts to the house.
If you are not sure what hinge you need for your restoration project, ask the experts!
Ricca's Architectural Sales, located at
511 North Solomon Street in Mid City, New Orleans, LA 70119
(504) 488 – 5524 or (504) 822-8200 | Fax: (504) 488 – 5662 | Email: riccaarch@yahoo.com
Business Hours:
Tuesday – Friday 9 am – 5 pm, Saturday – 9 am – 4 pm