Spruce Up Your Fireplace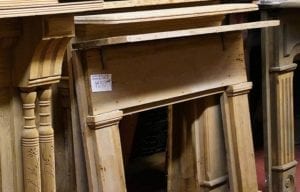 A fireplace is typically a focal point of a room. Redoing a fireplace can really impact the overall design and style of a room. Fireplaces can be modern or traditional and the type of tile or stone can completely change what type of fireplace design is created. When your fireplace has been neglected for a couple of years, it may have lost its appeal. Now you have several options to give it a makeover.
Take A Look At Your Options
You do not have to plan a major construction project to give your fireplace the new look you desire.  Sometimes a coat of fresh paint on unfinished or previously painted brick could do the trick.
Covering up old brick with tile can give your fire place a new fresh and clean look. Tiles come in all colors and shapes which means you can make the fireplace fit perfectly with your current decor. Most wall tile is suitable for a fireplace. Ceramic withstands heat well and is durable enough to withstand the demands of the fireplace. You may want to select a thicker tile for the fireplace for extra durability.
If would like to change the look of your possibly outdated fireplace completely, you could simply install a new mantel. Remove the old mantle. Take your measurements and head over to Ricca's Architectural Sales. We offer a wide variety of antique and modern mantels. Once you got your new or antique attach it to the support bricks or support wall. This usually involves either glue and pegs or lag bolts and sleeves.
About Ricca's Architectural Sales
Ricca's Architectural Sales has a lot of items, including fireplace mantels from demolition.  We  restore and preserve them  for future uses in both residential and commercial designs. If you are looking for something unique that will not only preserve and re-purpose salvaged parts, stop by Ricca's Architectural Sales and find the perfect addition to your home or business.
Ricca's Architectural Sales is located at
511 North