Add Some Bling To Your Home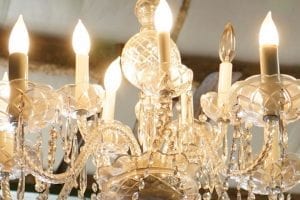 Jazz up any light fixture with chandelier bling. The days are getting shorter and soon it will feel like you leave your home in the dark and come home in the dark. There is nothing better to lighten up your home than a crystal chandelier. It will not only bring light, but also add elegance to your home. There are so many to choose from you will be sure to find one that matches your home's decor. You could also spruce up your ceiling fan by adding a chandelier. A sparkling chandelier will add some glitz and glamour to any space from living rooms to kitchens and dining rooms, form dens to usually rather dull hallways or entryways. A showstopping chandelier is a sure way to up the luxe factor of your bath. Even the most petite guest suite can accommodate a chandelier—and it's the perfect way to make the room feel a little more grandiose.
Chandelier & Candelabras
Brighten up your house with a beautiful chandelier or candelabra from Ricca's. You can either re-wire it, or just use candles to get that romantic festive mood just right for the holidays. From 10 Arm Crystal Chandeliers to Art Deco glass light fixtures, to Spanish brass chandeliers you will find a wide variety of styles at Ricca's.
For more ideas visit: https://riccasarchitectural.com/shop/lighting/chandeliers/
Ricca's Architectural Sales is located at
511 North Solomon Street in Mid City, New Orleans, LA 70119
(504) 488 – 5524 or (504) 822-8200 | Fax: (504) 488 – 5662 | Email: riccaarch@yahoo.com
Business Hours:
Tuesday – Friday 9 am – 5 pm, Saturday – 9 am – 4 pm
Ricca's Architectural Sales has a lot of items from demolition in our inventory that we restore and preserve for future uses in both residential and commercial designs. We are the best place to come to find that special moulding, chandelier, or even small parts. If you are looking for something unique that will not only preserve and re-purpose salvaged parts, stop by Ricca's Architectural Sales and find the perfect addition to your home or business.