Upcycling Idea: Re-purpose An Old Kitchen Stove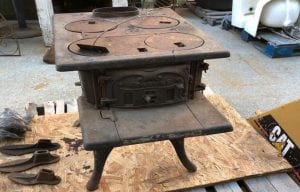 Spruce up your home or outdoor space with a unique antique piece. Ricca's selective demolition is a way to preserve our past and provide you with decorative pieces.  Did you know, that in most cases 80% of any home can be saved from the landfill?  Ricca's Architectural Sales has a lot of items from demolition in their inventory that are restored and preserved for future uses in both residential and commercial designs? They have lots of antiques and salvaged items such as knobs, locks, hinges, stained glass, ironwork, shutters, mantels, doors and amazing old kitchen appliances including stoves.
What You Can Do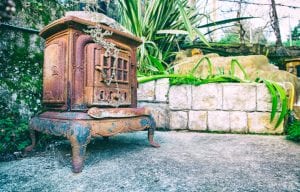 By recycling an old stove, you can create unique home furnishings, garden decorations or art pieces that personalize your home or outdoor living space. Old kitchen stoves can be transformed into kitchen island, shelving units, tables and garden decorations. Turning old kitchen stoves into garden decorations is not complicated. If you simply place the old stove outside and put some dirt in it, you have a unique planter that will surely become the focal point of your backyard. You don't even need to paint it, just keep the rusty look. If you want to use your old stove as and kitchen island, table or freestanding shelving unit you will have to put a little more work into the piece. Clean, paint and possibly remove old broken parts from the piece. This way, you can transform it into a safe and beautiful home decoration in vintage style that goes well with your home decor. Any larger old kitchen appliance can be re-purposed in this way.
If you are looking for something unique that will not only preserve and re-purpose salvaged parts, stop by Ricca's Architectural Sales and find the perfect addition to your home or business.
Ricca's Architectural Sales is located at
511 North Solomon Street in Mid City, New Orleans, LA 70119
(504) 488 – 5524 or (504) 822-8200 | Fax: (504) 488 – 5662 | Email: riccaarch@yahoo.com
Business Hours:
Tuesday – Friday 9 am – 5 pm, Saturday – 9 am – 4 pm